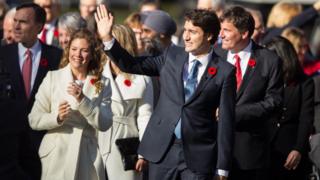 Canada's new leader, Justin Trudeau, has been sworn in as prime minister, ending 10 years of Conservative rule.
His ascension marks a new era of Liberal politics after an election that saw Stephen Harper's party ousted.

Mr Trudeau, 43, follows in the footsteps of his father who held the office for nearly two decades. The move could see an increase in public spending, better relations with the US and an increase in the number of Syrian refugees being taken in.