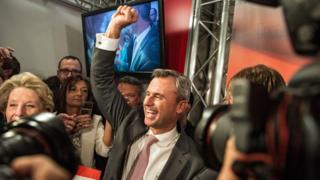 Austria's far-right Freedom Party candidate has come top in the first round of presidential elections, preliminary results show.

Norbert Hofer has about 36% of the votes for the mostly ceremonial role - not enough to avoid a run-off in May. He is likely to face independent contender Alexander Van der Bellen, who is polling 20%.

For the first time since World War Two, the candidates from Austria's two main parties did not make it to the run-off.