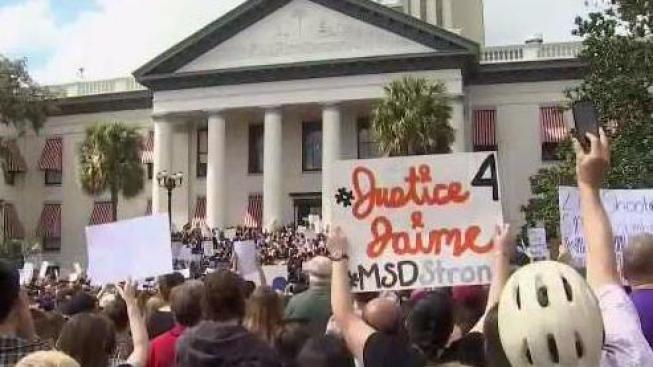 President Donald Trump has spoken to and met with several survivors and family members of victims of last week's school shooting in Parkland, Florida.
Not all of them were happy to hear from him.
Some companies are distancing themselves from the National Rifle Association after outcry over the mass shooting at a South Florida high school last week.
The First National Bank of Omaha said it would not renew a contract to issue an NRA-branded Visa credit card.
"Customer feedback has caused us to review our relationship with the NRA," bank spokesman Kevin Langin said in a tweet. "As a result, First National Bank of Omaha will not renew its contract with the National Rifle Association to issue the NRA Visa Card."
Read more...
The armed deputy assigned to the campus of a Florida high school during a deadly shooting last week stayed outside the building during the attack and failed to engage the shooter, the county sheriff said on Thursday.
As a consequence, Scott Peterson, on duty as the school resource officer at Marjory Stoneman Douglas High School in Parkland, resigned from the department, said Broward County Sheriff Scott Israel, who earlier has suspended the officer from the force. He did not say if Peterson would face criminal charges.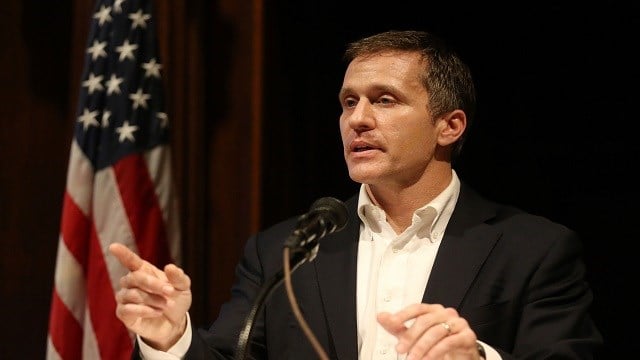 Missouri governor Eric Greitens was indicted Thursday on one count of invasion of privacy.
The charge says Greitens knowingly took a photograph of a woman in a "state of full or partial nudity without the knowledge and consent" of that woman. The charge goes on to say the photograph was taken "in a place where a person would have a reasonable expectation of privacy, and the defendant subsequently transmitted the image contained in the photograph in a manner that allowed access to that image via a computer."
Read more...
Call them Generation Columbine.
Born during the first few years of the 21st century, our youngest Americans, from high schoolers on down, have never known a world without school shootings.
The 1999 massacre at Columbine High School in Littleton, Colo., took place before virtually all of them were born. These students have grown up in Columbine's shadow, with locker searches, locked schoolhouse doors, bulletproof backpacks and active shooter drills.
Read more...
Scores of students from Florida's Marjory Stoneman Douglas High School rallied alongside hundreds of students from other schools Wednesday at the state Capitol, chanting "Never again" and "Shame on you!"
The energetic crowd waved signs including "Keep our schools safe" and "I will not stand idly by." They cheered vigorously during speeches as students from the school, the scene of last week's shooting rampage that killed 17 people, demanded an end to gun violence.
Read more...
In a tweet, President Donald Trump called the reverend the "GREAT Billy Graham" and wrote, "There was nobody like him! He will be missed by Christians and all religions. A very special man."
Graham died just before 8 a.m. at his home in Montreat, North Carolina, surrounded by family, according to a spokesman for Samaritan's Purse, the nondenominational evangelical Christian organization headed by Graham's son Franklin.
The longtime evangelist appeared on Gallup's list of most admired men and women 60 times since 1955 — every year the research company asked the question.
Page 7 of 195