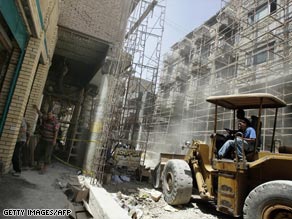 Further billions had to be diverted from reconstruction to security because the Bush administration did not adequately foresee how volatile Iraq would be when it began rebuilding the country, the report says.

"The U.S. government did not fully anticipate or plan for the unstable working environment that faced U.S. managers when reconstruction began in Iraq," it says.

Contractors spent an average of 12.5 percent of their reconstruction contracts on security, the inspector general found.
TVNL Comment: This was not "waste", this was "theft!" This war was waged by the people who stood to make the most money by obliterating Iraq, stealing their oil, and then charging American tax payers to rebuild what they just paid to obliterate! War is a scam. Always was, always will be.