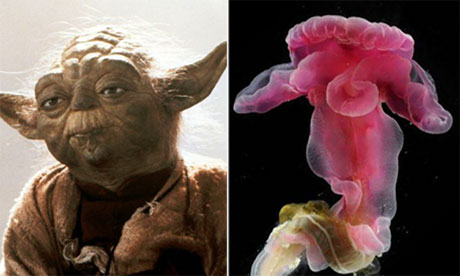 A worm from an ecosystem far, far away has been named after the Star Wars character Yoda. Yoda purpurata is one of three new species of deep-sea acorn worms discovered 1.5 miles beneath the Atlantic.

Scientists coined the genus name because the large lips on either side of the creature's head reminded them of the Jedi master's floppy ears. The creature is a dark reddish-purple – hence the other part of the worm's name, which is Latin for purple.

The Yoda worm, technically known as an enteropneust, is described in the latest issue of the journal Invertebrate Biology.