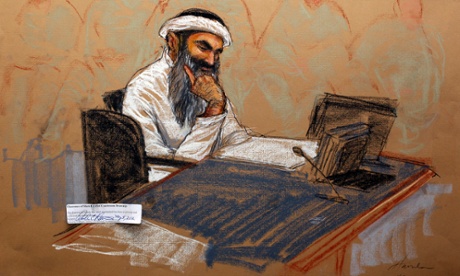 A US prosecutor has asked the judge in the 9/11 military tribunal in Guantánamo Bay for more time to look into whether an FBI investigation will affect the stalled war crimes trial.

The assistant US attorney Fernando Campoamor Sanchez says he confirmed the FBI began a preliminary criminal investigation involving classified information, but argues he needs 30 days to respond to a defense request to abate proceedings against five Guantánamo prisoners charged with orchestrating the attack on 11 September 2001.


On 17 April the tribunal was adjourned until June, derailed by an attempt by the FBI to turn a defense team expert on classified materials into an informant. When the adjournment was decided the army judge in the case, Colonel James Pohl, said he was considering appointing independent lawyers for defendants Khalid Sheikh Mohammed and Ramzi bin al-Shibh to advise them of possible conflicts between their defense teams' ability to represent them and the lawyers' interest in defending themselves against an apparent FBI investigation.

The defense told the court last week that it understood the FBI was seeking information on how an unclassified manifesto penned by Mohammed in his Guantánamo cell made its way to the Huffington Post and the UK's Channel Four. Pohl on Thursday ordered independent counsel for two detainees as an interim measure before establishing the full extent of the FBI penetration.