TvNewsLies.org wished to thank Mr. Bendib for his generous offer to allow us to publish his brilliant work at a special rate. His work brilliantly depicts the geopolitical situation that has consumed our world.
TvNewsLies.org is offering our readers a copy of Mr. Bendibís new book as a gift for a $15 minimum donation. You can also help to support this site by using our mall when you shop online. If you already shop on line please enter your favorite stores through our site. You enjoy special discounts only available to affiliates like TvNewsLies.org, and we receive support from the shops. Thank you!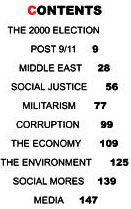 Make a $15 donation and receive K. Bendibís first book! You can see Mr. Bendib;s cartoons throughout our site! Now you can own 152 of his masterpieces! The book retails for $15.95 but thanks to Mr. Bendibís generosity TvNewsLies.org will send you a copy free if you make a $15 minimum donation! Click here!
All cartoons by K. Bendib, all rights reserved.