The Smoking Gun of 9/11:
Two years ago (Circa 1999) a project set up by the men who now surround George W Bush said what America needed was "a new Pearl Harbor". Its published aims have, alarmingly, come true.
-- John Pilger, 12 Dec 2002
If a group of people made a public statement saying that having a new Pearl Harbor would be the only way the public would support their agenda, and these same people were in positions that would allow them to conduct, permit or enable such an event when that event actually took place...would they deserve your suspicion? Well this is EXACTLY what happened. The very people with established motives for conducting an event like the one that took place on 9/11/2001 were responsible for national security when we had that most unlikely, unrealistic and implausible complete catastrophic failure of every single defense procedure in operation. Yet Americans look to these people for protection now.
The US military was running as many as 15 defense drills that day. Some of these drills were live fly hijacking simulations. Some of the drills were practicing for the possibility of having planes fly into government buildings. Could it be that someone decided that these drills would go live! Why have the corporate news media refused to report the drills to the public? Could it be because you would start asking REAL questions about that day? Well, it is time that you start asking questions because you may just be supporting the real terrorists!
Click here to read the article.
Pearl Harbor or Perle Harbor?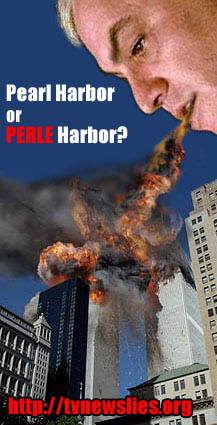 Bush learned much from the Nazis
"Still, we have not seen such systematic distortion of intelligence, such manipulation of American opinion, since the War in Vietnam" - John Brady Keisling - Career US Diplomat 27-Feb-2003
Perhaps the biggest question that we should pose to the press relates to the real reasons for the Iraq conflict. Could the smoking gun lie not in Iraq, rather in Dick Cheney's top secret energy policy meeting notes? Could the policy of this administration have been to acquire Iraqi oil all along, and maybe, just maybe they hit the snooze alarm so that they had an excuse, a new Pearl Harbor, 9/11?