CLICK HERE TO VISIT OUR NEW DONATIONS PAGE!
We offer a full line of DVDs available for donations.
Click here to see how the donations are being used!
Scroll down for The Loaded Deck Cards
(You may have problems making a donation using AOL or older versions of Opera. We suggest using Internet Exporer, Netscape or Opera 7.0 or higher)
Questions about a donation? e-mail us at shop@tvnewslies.org


Sending a gift? Would you like us to send your gift to someone else? We can enclose a gift message with your shipment and ship it directly to that person. for $1 extra we will send the receipt to the billing address and we will send the gift to the shipping address that you specify. The card will be printed on glossy photo paper.
Once you make your donation and select your gift(s) e-mail us at shop@tvnewslies.org with the order number and with a short message that you would like is to include with the shipment.
Click here to see a sample of the card in pdf format.
Don't forget to e-mail

your gift message to shop@tvnewslies.org Please include your order number with the message. It is located in the confimation e-mail you will receive after you make your donation. Thank you!

Help fight media deception! Make a cash donation! (No gift)
Click here to make a cash donation!
Please consider making monthly or semiannual contributions! Help keep this site going! Thank you!
NOTE: Each transaction costs us $.25 plus 2.19% of the total charge but WE PAY FOR THAT, NOT YOU!. If you would like to send a check, please contact us and we will send you an address where you can send us a check or money order made payable to TVNL, LTD. Thank you. shop@tvnewslie.org

Donate $10 and receive a complete month of the TvNewsLies Radio Prorgram on a CD!
That's approximatley 80 hours of information and provocative discusion about media deception and vital issues. Click hear to select a gift from the archives!

Want to write in style? Are you planning on writing your Congressperson, or an op-ed piece for your local paper? Use a TvNewsLIES.org pen!
Get one for a $3 donation!
Highly polished and lacquered metallic finish creates a pen of distinction. 24k Gold trim and contoured rubber gripper area make writing a pleasure.
Medium point, deluxe Black ink cartridge.
SHIPPING NOTE: THIS ITEM WILL NOT SHIP UNTIL LATE SEPTEMBER!

New! BopBush!
Sometimes you just have to vent!

Product: Inflatable Punching Bag ( "bopbag" )
Name: George W Bush
Occupation: U.S. President
Height: 5'
Interior: Full of hot air
Exterior: Sealed PVC
Bottom: Screw-plugged Water Pouch

Click here to get your Bush Bopper!

Help save our environment and fight media deception at the same time!
Help spread the word about TvNewsLies.org while you use our canvas shopping bag when you shop! Tell the stores to keep their wasteful bags!
Image is an actual bag but the print is just a sample of the text that will be on the bag.
This is a sturdy, high quality medium weight canvas bag.
Click here to get your tote bag!


Be prepared with your TvNewsLies key ring/pen! Never get caught without a pen again!
This high quality pen has a twist-top to extend and retract point. Spongy grip makes writing easy. Black ink, medium point refill.
Click here to get your key ring/pen!

Donate $8 and you can receive a set of 4 BushBrats!
You can treat them as you see fit! Get them before they are outlawed!
Click here to get your Bush Brats!


Make a $3.50 donation and receive (20) mixed version 9/11 Deception Dollars. Use this unique eye catching dollar bill to draw attention to the 9/11 stories that the mainstream media ignore. Printed on each dollar bill are many urls for web sites containing information related to 9/11.

Click here to get your Deception Dollars!

Media Deception Dollars Featuring TvNewsLies.org!!!


Click on images to see the different versions.
Click here to get your Deception Dollars!

Media Deception Dollars Featuring TvNewsLies.org!!!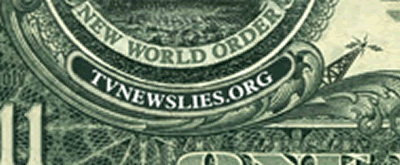 Click here to get your Deception Dollars!

Constructing Public Opinion DVD
How Politicians and the Media Misrepresent the Public
Click here for more info.

Beyond Good & Evil DVD
Children, Media & Violent Times
Click here for more info.

Beyond the Frame DVD
Alternative Perspectives on the War on Terrorism
Click here for more info.

Hunting of the President - DVD
THE TEN-YEAR CAMPAIGN TO DESTROY BILL CLINTON
Click here for a preview and to get your copy!

Celcius 9/11DVD
The International Citizens' Inquiry into the events of 9/11 on Video.

Alarming facts are presented during the International Citizens' Inquiry into the events of 9/11. You will learn how the official 9/11 Commission report was little more than a white wash! - Click here to read more and to get this DVD!

Michael Moore's Fahrenheit 9/11.
Get it here!

The World According to Bush DVD

Bush Family Fortunes - DVD
The Best Democracy Money Can Buy Greg Palast
Click here for a more info and to get your copy!

Horn's and Halos

HORNS AND HALOS captures the unlikely connection of three men - an ex-con turned celebrity biographer, a janitor cum underground publisher, and U.S. President George W. Bush - whose paths to power and popularity become tangled in a controversial book.

Click here to view a trailer and to get your copy!

Unprecedented - The 2000 Presidential Election - 2004 Campaign - DVD
Click here for more info and to get your copy!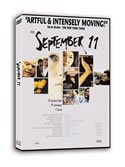 This award winning film is a CO-production of 11 acclaimed directors. Each director made a short film in response to the events of 9/11. The result is a daring and moving global cinematic response to the events that continue to haunt our nightmares and shape world events.
Click here or more information.

9/11 - The Filmmakers' Commemorative Edition - DVD
Click here for more info and to get your copy!

WTC - The First 24 Hours - DVD
Award winning documentary.
Click here for more info and to get your copy!

Get this DVD for a minimum $20 donation. Click here to get yours!
THE GREAT CONSPIRACY: The 9/11 News Special You Never Saw is a 70-minute sequel to The Great Deception, the ground-breaking 44-minute video by Barrie Zwicker, the first mainstream journalist in the world to ask hard questions, in early 2002, about the official story of the events of 9/11. In The Great Conspiracy, Zwicker analyses the use of fear to befuddle the public, and deconstructs the so-called "war on terrorism" as a public control mechanism. He then examines in depth the failure of the military to function on 9/11 and the entirely inappropriate behaviour of the president and his aides that day. Finally, the resistance of the White House to any proper investigation, the extreme taintedness of the 9/11 commission and its drastic underperformance are examined. Throughout, the compliance and complicity of the mainstream media in maintaining a trance of ignorance is addressed. And the responsibility of each thinking citizen emphasized at the end.
Get this DVD for a minimum $20 donation. Click here to get yours!

911 In Plane Site
The FIRST 911 Video to Present VIDEO EVIDENCE - NOT THEORIES

Click here to get the DVD or VHS tape!
$15 minimum donation.

From Dave vonKleist, co-host of "The Power Hour" radio program and writer/producer of the album "Will Someone Listen" & William Lewis, producer/director of "American Freedom News" and "TruNews" comes a full length documentary exposing one of the largest conspiracies ever uncovered. With the pounding force of a sledgehammer you will find yourself horrified and astonished at the shear scope of the largest transgressions ever carried out against the people of the United States and indeed... of the entire world.

Click here to get the DVD or VHS tape!
$15 minimum donation.

THE TRUTH & LIES OF 9/11 (DVD)
Tape of the Portland State University Lecture Mike Gave In November 2001!



- WITH NEW 2004 INTRODUCTION & UPDATES
by MICHAEL C. RUPPERT
- 28 Searchable Chapter Selections for Easy Research
- Improved Color and Audio

This pioneering, groundbreaking expose of 9-11, now two years old, painted a stark and accurate picture of our world today and TOMORROW. Mike's new introduction "connects the dots."

Make a donation to receive a copy of Alex Jones' 911 The Road To Tyranny DVD

Click here to read more and to get your copy!

THE ROAD TO TYRANNY EXPOSES:
HOW DOZENS OF FBI AND DEFENSE INTELLIGENCE AGENTS WERE THREATENED WITH ARREST BY THE FEDERAL GOVERNMENT IF THEY GOT IN THE WAY OF AL-QAEDA OPERATIONS

HOW THE CIA TRAINED, FUNDED AND PROTECTED BIN LADEN

THAT IMPEACHMENT LAWYER DAVID SCHIPPERS WARNED CONGRESS AND THE JUSTICE DEPARTMENT OF THE IMPENDING TERRORISTS ATTACKS . (THE FILM INCLUDES AN EXCLUSIVE INTERVIEW WITH SCHIPPERS ON THE ALEX JONES SHOW JUST 2 WEEKS AFTER THE ATTACKS. SCHIPPERS HAS SINCE BEEN THREATENED WITH ARREST IF HE CONTINUES TO SPEAK OUT, AND IS BEGGING THE MEDIA AND THE AMERICAN PEOPLE TO GET THIS STORY OUT)

HOW THE BLOODTHIRSTY GLOBALISTS ARE USING THE TERRORIST ATTACKS TO SCARE THE POPULATION INTO ACCEPTING HIGH-TECH SLAVERY AND A NEW WORLD ORDER POLICE STATE

HOW THE RECENTLY DECLASSIFIED TOP-SECRET NORTHWOODS DOCUMENT WRITTEN BY THE JOINT CHIEFS OF STAFF LAID OUT PLANS TO BOMB WASHINGTON AND TO HIJACK AIRPLANES AS A PRETEXT FOR WAR

BILL CLINTON'S INVOLVEMENT IN THE OKLAHOMA CITY BOMBING AND HOW IT WAS CARRIED OUT BY INTELLIGENCE AGENCIES TO BE BLAMED ON THE RIGHT-WING

HOW THE FBI ORDERED THEIR INFORMANTS TO COOK THE BOMB AND TRAIN THE DRIVERS IN THE FIRST WORLD TRADE CENTER ATTACK IN 1993

WHY THE USA PATRIOT ACT IS UNCONSTITUTIONAL AND UN-AMERICAN

WHY THE GOVERNMENT LEAVES OUR BORDERS WIDE-OPEN BUT TELLS US TO GIVE UP OUR LIBERTIES FOR SECURITY AND THAT MORE TERRORIST ATTACKS ARE IMMINENT

FBI TRAINING MANUALS THAT ARE BEING GIVEN TO POLICE DEPARTMENTS THAT STATE THAT CHRISTIANS, GUN OWNERS, AND "THOSE WHO MAKE FREQUENT REFERENCES TO THE US CONSTITUTION" ARE TERRORISTS

THE UNFOLDING CASHLESS SOCIETY BIOMETRIC CONTROL-GRID

AND MUCH, MUCH MORE...
Click here to read more and to get your copy!

9-11 The Greatest Lie Ever Told
An Anthony J Hilder Film

Only By "Exposing the Creators" of the first World Trade Center bombing in (1993), could we have prevented the creation of the second bombing of the World Trade Center on 9-11! We failed to make it ... "PUBLIC KNOWLEDGE" that the 1993 bombing was - Encouraged by "AGENT PROVOCATUERS" of the FB-LIE

Click here to read more and to get your copy!

Painful Deceptions DVD
MUST SEE! An analysis of the September 11th Attack

TvNewsLIES Comment: This DVD is a clear analysis of many of the questions presented in the book Painful Questions. While it compliments the book, this DVD by itself (without the book) presents a complete analysis of the events. The book goes into further detail however. After watching this DVD you will realize that it is the official story of the events of 9/11 that is the "conspiracy theory!"

Click here to read more and to get your copy!

Gaza Strip
"An unflinchingly honest portrayal of a population under siege. As a perspective that is largely excluded from American attention, it deserves the widest possible audience." - Washington Report on Middle East Affairs
Click here for more info.

Control Room (DVD)
A documentary about the Arab television network Al-Jazeera's coverage of the U.S.-led Iraqi war.

Click here for more information.

Peace, Propaganda & the Promised Land DVD

U.S. Media & the Israeli-Palestinian Conflict (2004)
Click here for more info and to get your copy!

"Outfoxed" examines how media empires, led by Rupert Murdoch's Fox News, have been running a "race to the bottom" in television news. This film provides an in-depth look at Fox News and the dangers of ever-enlarging corporations taking control of the public's right to know.

The film explores Murdoch's burgeoning kingdom and the impact on society when a broad swath of media is controlled by one person.

Read more and see the preview. Click here!

FREE Deception Dollars with every order!

Hidden Wars of Desert Storm
This careful study of the events leading up to and during the first Gulf War in Iraq provide a fascinating and disturbing historical context for the current U.S. involvement in the region.
Click here for more info and to get your copy!


Detailed info about this important documentary here:
The Whole Truth About the Iraq War - DVD
Theatrical Release
Bonus feature: David O. Russell's documentary "Soldiers Pay"
This is NOT the version that is selling for $10 in Amazon and elsewhere. That version is the one we used to offer! This is the full theatrical release plus the additional material.

If you were haunted by "Fahrenheit 9/11",
BUSH'S BRAIN on DVD
will give you nightmares.

Meet Karl Rove,
the most powerful political figure America has never heard of.

Click here to view the trailer and to get your copy!

Mark Crispin Miller in A Patriot Act

A Patriot Act is a chilling indictment of their stealth movement to subvert the US Constitution and replace American democracy with religious values.

Click here to view the trailer and to get your copy!

Mark Umile - Bush Unplugged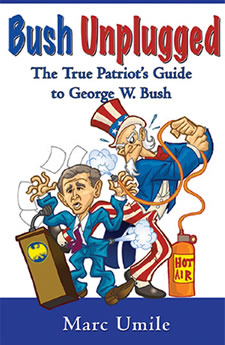 Millions of hard working Americans remain in the dark about the true nature of George W. Bush, what he stands for and whom he represents. We the people have many unanswered questions about the "war on terror," the root cause of Islamic extremism, Al Qaeda, the war in Iraq, Saudi ties to terrorism, and what happened to those mysterious weapons of mass destruction. It's like a massive puzzle with thousands of pieces and folks don't know where to start putting it all together. Bush Unplugged arranges those thousands of pieces in a clear, concise picture that all Americans can relate to and understand.
Bush Unplugged rises above right vs. left warfare into the realm of right vs. wrong and plain common sense. Too many middle and working class Americans have been lulled into a state of "patriotic obedience," and believing that Bush and his neo-conservative "corporatists" are actually working with their economic interests and personal security in mind.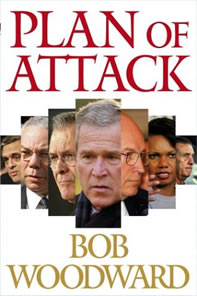 Bush Planned for War as Diplomacy Continued

- Beginning in late December, 2001, President Bush met repeatedly with Army Gen. Tommy R. Franks and his war cabinet to plan the U.S. attack on Iraq even as he and administration spokesmen insisted they were pursuing a diplomatic solution, according to a new book on the origins of the war. - Woodward describes a relationship between Cheney and Secretary of State Colin L. Powell -- never close despite years of working together -- that became so strained that Cheney and Powell are barely on speaking terms. Cheney engaged in a bitter and eventually winning struggle over Iraq with Powell, an opponent of war who believed Cheney was obsessed with trying to establish a connection between Iraq and the al Qaeda terrorist network and treated ambiguous intelligence as fact.

Journalist Shares War Secrets

- "...The end of July 2002, they need $700 million, a large amount of money for all these tasks. And the president approves it. But Congress doesn't know and it is done.

They get the money from a supplemental appropriation for the Afghan War

, which Congress has approved. ...Some people are gonna look at a document called the Constitution which says that no money will be drawn from the treasury unless appropriated by Congress.

Congress was totally in the dark on this

."

Powell Said to Have Warned Bush Before the War, a New Book Says

- Two months before the invasion of Iraq, Secretary of State Colin L. Powell warned President Bush about the potential negative consequences of a war, citing what Mr. Powell privately called the "

you break it, you own it

" rule of military action, according to a new book. - "

You are going to be the proud owner of 25 million people

," Mr. Powell is said to have told Mr. Bush in the summer of 2002. "You will own all their hopes, aspirations and problems. You'll own it all."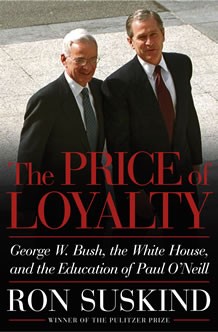 The Price of Loyalty by Ron Suskind

This vivid, unfolding narrative is like no other book that has been written about the Bush presidency — or any that is likely to be written soon. At its core are the candid assessments of former US Treasury Secretary Paul O'Neill, for two years the administration's top economic official, a principal member of the National Security Council, and a tutor to the new President. He is the only member of Bush's innermost circle to leave and then to agree to speak frankly about what has really been happening inside the White House. O'Neill's account is supported by Suskind's interviews with many participants in the administration, by transcripts of meetings, and by voluminous documents that cover most areas of domestic and foreign policy. The result is a disclosure of breadth and depth unparalleled for an ongoing presidency. As readers are taken to the very epicenter of government, this news-making volume offers a definitive view of the character and conduct of Bush and his closest advisers as they manage crucial domestic policies and global strategies at a time of life-and-death crises. Dick Cheney, Karl Rove, Donald Rumsfeld, Condoleeza Rice, Colin Powell, Christine Todd Whitman, and many of their aides are seen in an intimate, "unmanaged" way, as is Fed Chairman Alan Greenspan, O'Neill's close friend and ally. Along the way, the central conflicts of the administration's governance — between politics and policy, ideology and analysis — are starkly visible through the lens of recent events and the revelation of the often concealed intentions that underlie actions. In this book, Suskind draws on unique access to present an astonishing account of a President so carefully managed in his public posture that he is unknown to most Americans. Now, he will be known.

House of Bush, House of Saud
Craig Unger
WE ARE ALL OUT OF THIS TITLE!
You can still help to support us by purchasing this book at Amazon.com using our link!

Use our links to purchase any item at Amazon.com and you will help to support us!
Thank you!

House of Bush, House of Saud
The Secret Relationship Between the World's Two Most Powerful Dynasties
Newsbreaking and controversial -- an award-winning investigative journalist uncovers the thirty-year relationship between the Bush family and the House of Saud and explains its impact on American foreign policy, business, and national security.

House of Bush, House of Saud begins with a politically explosive question: How is it that two days after 9/11, when U.S. air traffic was tightly restricted, 140 Saudis, many immediate kin to Osama Bin Laden, were permitted to leave the country without being questioned by U.S. intelligence?

The answer lies in a hidden relationship that began in the 1970s, when the oil-rich House of Saud began courting American politicians in a bid for military protection, influence, and investment opportunity. With the Bush family, the Saudis hit a gusher -- direct access to presidents Reagan, George H.W. Bush, and George W. Bush. To trace the amazing weave of Saud- Bush connections, Unger interviewed three former directors of the CIA, top Saudi and Israeli intelligence officials, and more than one hundred other sources. His access to major players is unparalleled and often exclusive -- including executives at the Carlyle Group, the giant investment firm where the House of Bush and the House of Saud each has a major stake.

Like Bob Woodward's The Veil, Unger's House of Bush, House of Saud features unprecedented reportage; like Michael Moore's Dude, Where's My Country? Unger's book offers a political counter-narrative to official explanations; this deeply sourced account has already been cited by Senators Hillary Rodham Clinton and Charles Schumer, and sets 9/11, the two Gulf Wars, and the ongoing Middle East crisis in a new context: What really happened when America's most powerful political family became seduced by its Saudi counterparts?
Banned in Britain!

- Fearful of Saudi lawsuits, the British publisher of "

House of Bush, House of Saud

" has backed down from issuing the book. - A controversial new book that casts a critical eye on the

three-decade-old relationship between the Bush and Saud families

, "House of Bush, House of Saud: The Secret Relationship Between the World's Two Most Powerful Dynasties," by Craig Unger, has been dropped by its British publisher just weeks before it was scheduled to arrive in stores.

Make a $15 donation and receive K. Bendib's first book! You can see Mr. Bendib's cartoons throughout our site! Now you can own 152 of his masterpieces! The book retails for $15.95 but thanks to Mr. Bendib's generosity TvNewsLies.org will send you a copy free if you make a $15 minimum donation!
To preview some toons click here.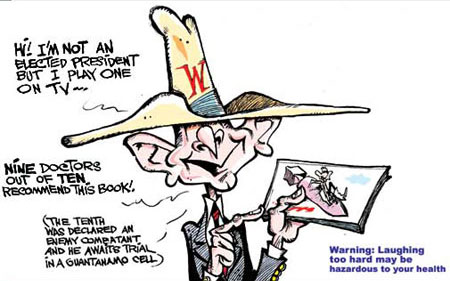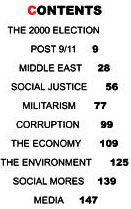 All gone! Check back soon!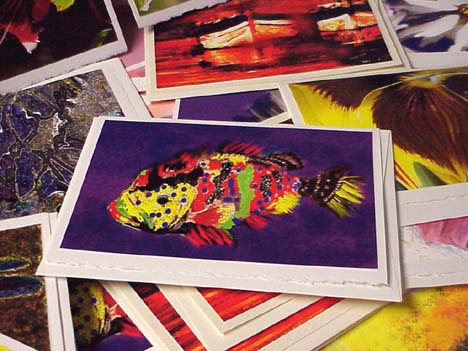 Created for TvNewsLies.org by Kalay, a loyal reader:
For your $6 donation you will receive 1 beautiful 4 1/2" x 6 1/2" print affixed to a blank card made of beautiful parchment. You also receive a matching envelope. This beautiful card is of the same quality as the finest wedding invitations. You can use these cards for the most special occasions. The print itself is suitable for framing if you choose to do so.
Kalay Gallery - Coming soon!

From our friends at BushBallCards.com

Details & Samples: Click Here!

Get the tee shirt version of our famous joker card!

Get the cards and the shirt!
Click here for the shirt!

The Loaded Deck! These cards are the real deal! Each card has a who, what, card value and a suggested use! There are 2 cards that are separated from the deck for reasons you will understand when you receive the cards. Can you guess which cards they are? You can see some samples of the cards by clicking here.
As with all donations, the funds will be used to help us to educate the public about media deception. This is a vital mission and we thank you for helping us to carry out our mission!
Click here to get your Loaded Deck!

Want Something Extra? For $1 extra you can get yourself a TvNewsLies pen!
Get one for every extra $1 donation!
Shiny translucent color tops; write in style. White frosted rubber gripper with Black ink, medium point refill
Click here to get this pen for a $1 donation!

View your cart and check out! Secure credit card transactions! All information is confidential. We do not keep a database of your information. However, we do retain a record of your donation.
Thank you so much for your support!


ARTISTS/WRITERS/MUSICIANS/CRAFTSPEOPLE Etc. SELL YOUR CREATIONS HERE!
TvNewsLies is operated by TVNL, LTD, a nonprofit organization dedicated to educating the public about media deception. We are a 501 (c) (3) corporation. Although we are currently a 501 (c)(3) nonprofit corporation our IRS tax status is pending review (standard procedure for new companies) so currently you can not deduct your contributions. We will change this disclaimer when the status is official. Donations will help to fund this site so that we may continue to work towards achieving our goal; to bring "journalism" back to television news.