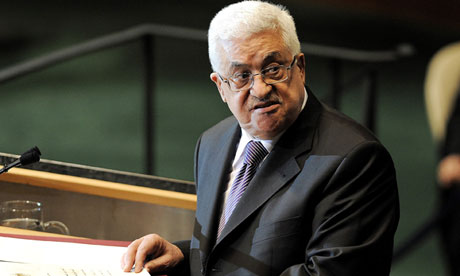 The United States has warned European governments against supporting a Palestinian bid for enhanced status at the United Nations, saying such a move "would be extremely counterproductive" and threatening "significant negative consequences" for the Palestinian Authority, including financial sanctions.

A US memorandum, seen by the Guardian, said Palestinian statehood "can only be achieved via direct negotiations with the Israelis" and urged European governments "to support [American] efforts" to block the bid. The message was communicated by officials to representatives of European governments at the UN general assembly (UNGA) in New York last week.
Palestinian officials accused the US of exerting "tremendous pressure" on European governments to oppose their bid for upgraded "non-member state" status at the UNGA. Announced by president Mahmoud Abbas last week (video), the move is a significant diminution of Palestinian ambitions after its application for full statehood failed last year when it was blocked by the US in the security council.

The Palestinians will wait until after the US presidential election in early November before proceeding with their bid for upgraded status. However, they insist they will press for a vote by the end of the year and are confident of winning a comfortable majority among the UN's 193 countries. The US has no veto at the general assembly.