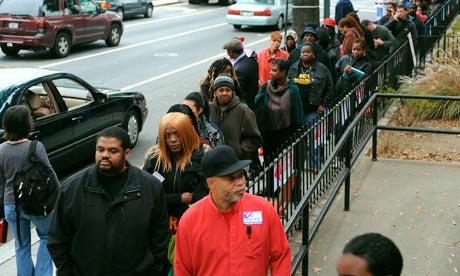 Across the country, state legislatures and governors are pushing laws that seek to restrict access to the voting booth, laws that will disproportionately harm people of color, low-income people, and young and elderly voters.

The National Association for the Advancement of Colored People and the NAACP Legal Defense and Educational Fund have just released a comprehensive report on the crisis, "Defending Democracy: Confronting Modern Barriers to Voting Rights in America."
In it, they write: "The heart of the modern block-the-vote campaign is a wave of restrictive government-issued photo identification requirements. In a co-ordinated effort, legislators in 34 states introduced bills imposing such requirements. Many of these bills were modeled on legislation drafted by the American Legislative Exchange Council (ALEC) – a conservative advocacy group whose founder explained: 'Our leverage in the elections quite candidly goes up as the voting populace goes down.'"

It is interesting that the right wing, long an opponent of any type of national identification card, is very keen to impose photo identification requirements at the state level. Why? Ben Jealous, president of the NAACP, calls the voter ID laws "a solution without a problem … it's not going to make the vote more secure. What it is going to do is put the first financial barrier between people and their ballot box since we got rid of the poll tax."