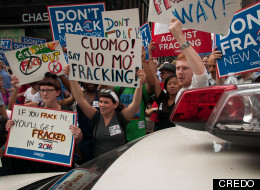 On the heels of Monday's report revealing New York state is set to allow hydraulic fracturing, over 350 people gathered outside a policy summit hosted by Governor Cuomo on Wednesday to protest the controversial plan.

The rally, a joint effort organized by CREDO Action and New Yorkers Against Fracking, hopes to sway the governor from going forward with the practice (better known as fracking) because of the irreparable environmental damages drilling may cause.
Fracking involves drilling toxic chemicals deep into the earth in order to extract natural resources and poses serious risks to water contamination.

Politically, many protestors say fracking also carries the potential to smear Cuomo's reputation as New York governor and even affect voters' decisions if he were to ever run for president, as has been widely speculated.

Zack Malitz of CREDO told HuffPost, "We are here to send a message, don't frack New York. His political legacy is riding on this. He could go down in history as the governor who poisoned New York state's water supply."