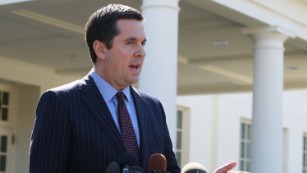 The Justice Department warned Wednesday that it "would be extraordinarily reckless" for the House intelligence Committee to release a classified memo publicly "without giving the Department and the FBI the opportunity to review the memorandum," and to "advise" on possible harm to national security and ongoing investigations from its public release.
CNN has obtained a
copy of the letter
sent by Assistant Attorney General Stephen Boyd to committee Chairman Devin Nunes.
The letter asks "why the Committee would possibly seek to disclose classified and law enforcement sensitive information without first consulting with the relevant members of the intelligence community."
Boyd wrote that the Justice Department has turned over more than 1,000 pages of classified documents to the committee "relating to the FBI's relationship, if any, with a source and its reliance, if any, on information provided by that source."