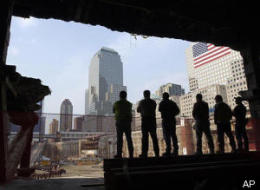 A federal judge who held up an effort to settle thousands of lawsuits filed by 9/11 responders exposed to World Trade Center dust dropped his opposition Thursday after the deal was redrafted to give more money to sick workers and less to their lawyers.

U.S. District Judge Hellerstein gave his enthusiastic endorsement to a new settlement that could pay as much as $713 million to about 10,000 police, firefighters and construction workers.
He implored them to take the money, saying it was time to end an ugly and complicated case that has pitted New York City officials against thousands of men and women hailed as heroes for their service at the trade center.

"This is a very good deal. I am very excited about this deal," Hellerstein said during a court hearing in which he signed off on the pact.

Just three months ago, the judge sternly rejected an earlier plan that was worth about $125 million less, saying it did too little for ground zero workers who got sick after breathing toxic ash. Plaintiffs in the case have complained of breathing and digestive problems, chronic cough, and hundreds of other common and rare ailments.