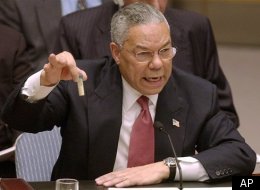 In his new book, former Secretary of State Colin Powell provides what may be the most authoritative confirmation yet that there was never a considered debate in the George W. Bush White House about whether going to war in Iraq was really a good idea.
"By then, the President did not think war could be avoided," Powell writes. "He had crossed the line in his own mind, even though the NSC [National Security Council] had never met -- and never would meet -- to discuss the decision."
The National Security Council, which was at the time led by Condoleezza Rice, is the president's foremost advisory body for national security and foreign policy.
TVNL Comment: The invasion was planned before Bush was placed in office. 9/11 was carried out as a false flag operation to permit war plans (more than just Iraq), to go live. To anyone with a functioning intellect and real historical information, Powell is viewed as one of the most despicable people in modern history for his role in what happened.