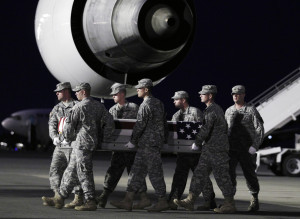 August has become the deadliest month for U.S. troops in the nearly 10-year-old war in Afghanistan, where international forces have started to go home and let Afghan forces take charge of securing their country.
A record 66 U.S. troops have died so far this month, eclipsing the 65 killed in July 2010, according to a tally by The Associated Press.
This month's death toll soared when 30 Americans — most of them elite Navy SEALs — were killed in a helicopter crash Aug. 6. They were aboard a Chinook shot down as it was flying in to help Army Rangers who had come under fire in Wardak province. It was the single deadliest incident of war being waged by Afghan and U.S.-led coalition forces and insurgents.

On Tuesday, Afghan President Hamid Karzai used the start of a three-day Muslim holiday to plead with insurgents to lay down their arms and help rebuild the nation. Karzai wants Afghan security forces to take the lead in defending and protecting the nation by the end of 2014.

At a palace celebration, he also greeted eight boys and young men who had been solicited to become suicide bombers, but then turned themselves in to Afghan authorities.
TVNL Comment:  Let's not forget that these troops are dying to enrich the military industrial complex.  They are NOT dying for our freedom.