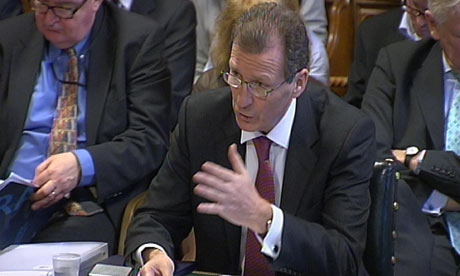 Britain's top civil servant, Sir Gus O'Donnell, is preventing the official inquiry into the Iraq invasion from publishing notes sent by Tony Blair to George W Bush - evidence described by the inquiry as of "central importance" in establishing the circumstances that led to war.
In a letter dated 6 January, his third to O'Donnell in less than a month, Chilcot wrote: "The question when and how the prime minister made commitments to the US about the UK's involvement in military action in Iraq and subsequent decisions on the UK's continuing involvement, is central to its considerations".
He refers to passages in memoirs, including Blair's autobiography, A Journey, and disclosures by Jonathan Powell, Blair's chief of staff, and Alastair Campbell, his former head of communications. Those publications, and the refusal to disclose Blair's notes, Chilcot said, "leads to the position that individuals may disclose privileged information (without sanction) whilst a committee of privy counsellors established by a former prime minister to review the issues, cannot".