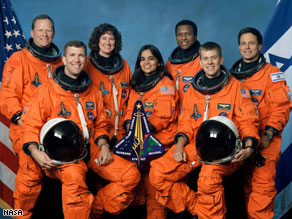 A NASA report on the last minutes of Space Shuttle Columbia cited problems with the crew's helmets, spacesuits and restraints, which resulted in "lethal trauma" to the seven astronauts aboard.
But the report also acknowledged that "the breakup of the crew module ... was not survivable by any currently existing capability."

The spacecraft broke up while re-entering Earth's atmosphere near the end of its mission on February 1, 2003.

The NASA report found the astronauts knew for about 40 seconds that they did not have control of the shuttle before they likely were knocked unconscious as Columbia broke apart around them.