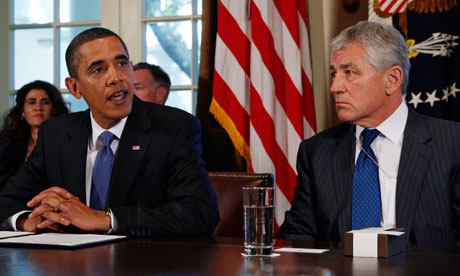 The gay GOP group confirms the ad was funded by outside donors, but refuses to identify them or their cause.
Last Thursday, the gay GOP group Log Cabin Republicans (LCR) placed a full-page ad in the New York Times that attacked Chuck Hagel as anti-Israel and anti-gay and urged President Obama not to appoint him as Defense Secretary. This was quite a strange event for multiple reasons.
First, full-page ads in the NYT are notoriously expensive, particularly for a small, poorly-funded group like LCR; published rates indicate that such an ad can cost well in excess of $100,000, though some discounts are possible with flexible dates (five years ago, the published rate for a black-and-white full-page political ad was $142,000).
Second, LCR - which touts itself as "the only Republican organization dedicated to representing the interests of LGBT Americans and their allies"- has virtually no demonstrated prior interest in Israel; the only mention of that country on its entire website is as part of a laundry list of nations which allow gay and lesbians to serve in the armed forces, while its only substantive position on Iran policy is a tepid 2010 statement advocating a single 2010 bill for increased sanctions, something which Obama supported and signed (the group did lend its name to a coalition against Iranian nuclear proliferation).