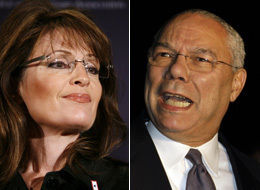 Former Secretary of State Colin Powell took aim at Sarah Palin and the Republican party's emphasis on small-town values during an interview with CNN's Fareed Zakharia that will air this Sunday.

Powell also says that we should rethink its "don't ask, don't tell" policy on homosexuals in the military. And he tells Republicans that they should stop listening to Rush Limbaugh:
"Can we continue to listen to Rush Limbaugh?" Powell asked. "Is this really the kind of party that we want to be when these kinds of spokespersons seem to appeal to our lesser instincts rather than our better instincts?"