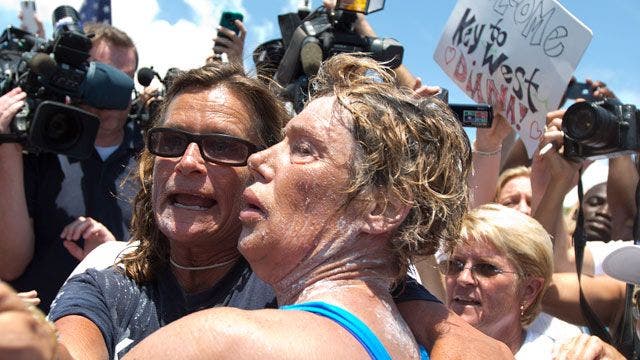 Endurance swimmer Diana Nyad became the first person to swim the treacherous waters from Cuba to Florida without a shark cage on Monday, arriving in Key West two days after starting her 110-mile trek.

Nyad, 64, arrived at the beach just before 2 p.m. EDT, about 53 hours after she began her swim in Havana early Saturday. She had unsuccessfully tried to swim the Florida Strait four times, mostly recently in 2012.
"I have three messages," Nyad said on the beach. "One is, we should never, ever give up. Two is, you're never too old to chase your dream. Three is, it looks like a solitary sport, but it is a team."
The New York City native's latest journey began when she jumped from the seawall of the Hemingway Marina into the warm waters off Havana. As she closed in on the Key West shores, a couple of hundred people gathered on the beach to watch her make the final leg of the swim. Nyad swam within a couple dozen feet of the beach and walked on to dry land, appearing dazed and sunburned. She was later taken by ambulance to a hospital.