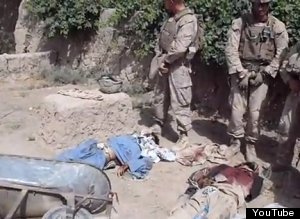 The Marine Corps said Wednesday it is investigating a video depicting what appears to be four Marines urinating on the corpses of Taliban fighters. In a statement, the Marine Corps said it has not verified the origin or authenticity of the YouTube video. But it also said the actions portrayed are not consistent with Marine values.

If verified the video could create a strong backlash in the Muslim world and beyond for the disrespectful actions it portrays.
A defense official, speaking on condition of anonymity in order to discuss a sensitive aspect of the matter, said the case will be referred to the Naval Criminal Investigative Service, the Navy's worldwide law enforcement organization.

The Council on Islamic-American Relations, a prominent Muslim civil rights and advocacy group based in Washington, quickly condemned the video.