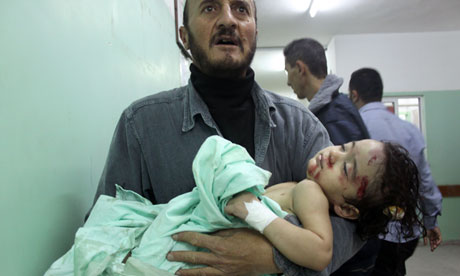 An Israeli missile flattened a two-story house in a residential neighborhood of Gaza City on Sunday, killing at least 11 civilians, mostly women and children, Palestinian medical officials said, as Israel expanded a military offensive to target homes of wanted militants.

The attack, which Israel said targeted a militant, was the single deadliest incident of the five-day-old Israeli operation and hiked a toll Sunday that was already the highest number of civilians killed in one day, according to Gaza medics. The bloodshed is likely to raise international pressure for a cease-fire, with Egypt taking the leading role in mediating between Israel and Hamas.
President Barack Obama said he had been in touch with the leaders of Israel, Egypt, and Turkey in an effort to halt the fighting. "We're going to have to see what kind of progress we can make in the next 24, 36, 48 hours," he said.

Obama cautioned against a potential Israeli ground invasion into Gaza, warning it could only deepen its death toll. At the same time, he blamed Palestinian militants for starting the round of fighting by raining rockets onto Israel, and he defended Israel's right to defend itself.
TVNL Comment: Imagine if the primitive rockets from Gaza had killed 11 women and children in Israel.  The entire western world would rise up in outrage and condemnation.  But Arab life is seen as cheaper than Israeli lfe, somehow.  Wonder why.