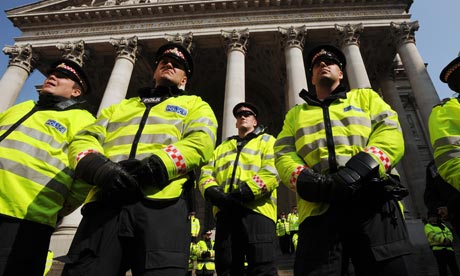 Police are gathering the personal details of thousands of activists who attend political meetings and protests, and storing their data on a network of nationwide intelligence databases.
The hidden apparatus has been constructed to monitor "domestic extremists", the Guardian can reveal in the first of a three-day series into the policing of protests. Detailed information about the political activities of campaigners is being stored on a number of overlapping IT systems, even if they have not committed a crime.
Senior officers say domestic extremism, a term coined by police that has no legal basis, can include activists suspected of minor public order offences such as
peaceful
direct action and
civil
disobedience.
TVNL Comment: The police in the UK and the US are being conditioned and trained to be the enemy of free people. They are following the EXACT path taken by the Nazis.