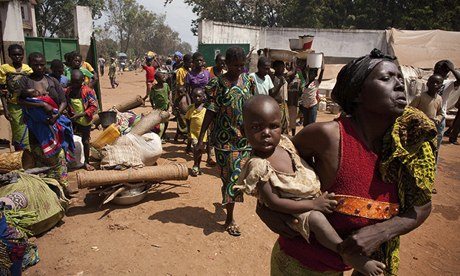 A massacre of the innocents is taking place in the heart of Africa as the world looks the other way.

One man describes how his four-year-old son's throat was slit, and how he saw a snake swallowing a baby. A woman explains that she is caring for a young girl because her mother went searching for medicine and was bludgeoned to death with Kalashnikov rifles. A young man tells how he was bound and thrown to the crocodiles, but managed to swim to safety.

This is the world of horrors that the Central African Republic (CAR) has become. Thousands of people are dying at the hands of soldiers and militia gangs or from untreated diseases such as malaria. Boys and girls as young as eight are pressganged into fighting between Christians and Muslims. There are reports of beheadings and public execution-style killings. Villages are razed to the ground.
Never much more than a phantom state, the CAR has sucked in thousands of mercenaries from neighbouring countries and, France warned on Thursday, now stands "on the verge of genocide". Yet many would struggle to find the country on a map, despite the clue in its afterthought name.
The humanitarian emergency in the CAR, a landmass bigger than France where the average male life expectancy is 48, remains a blind spot for most of the international community. Samantha Power, the US ambassador to the UN, noted recently that the situation in the CAR has been referred to as "the worst crisis most people have never heard of".