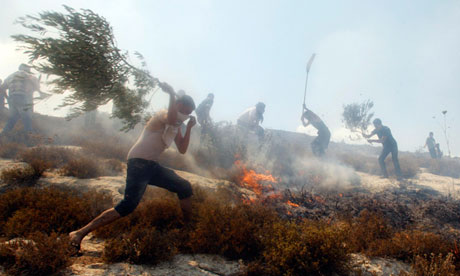 Violence by Jewish settlers has been cited for the first time in a US state department list of "terrorist incidents", as Israeli political leaders condemned a string of recent attacks on Palestinians in the West Bank and Jerusalem.

The inclusion of assaults on Palestinian targets in the annual report on terrorism reflects growing concern in Israel and internationally that violence by a minority of Jewish extremists could trigger a new cycle of conflict and further damage the prospects of a peace agreement between the two sides.

"Attacks by extremist Israeli settlers against Palestinian residents, property and places of worship in the West Bank continued," said the Country Reports on Terrorism 2011. It referred to "price tag" operations, meaning violence committed by radical settlers against Palestinians in retribution for actions by the Israeli government or army deemed to be "anti-settler".

US and European officials have become more vocal in criticising settler violence amid fears that the actions of a minority of Jewish extremists could provoke a militant response from Palestinians. According to the UN, violent attacks by settlers on Palestinians and their property, mosques and farmland has increased by almost 150% since 2009.