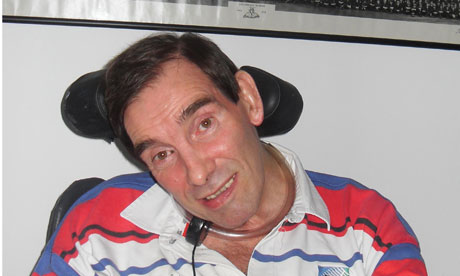 A high court judge has ruled that the right-to-die case of a man who can only communicate by blinking and wants his "suffering to end" should be allowed to proceed.
Tony Nicklinson, 57, who has locked-in syndrome, wants a doctor to be able to lawfully end his "intolerable" life after suffering a stroke in 2005 which left him able only to communicate by a voice-synthesiser that registers blinking. He launched legal action seeking the right for a doctor to intervene to end his "indignity" and have a "common law defence of necessity" against any murder charge.
His wife, Jane Nicklinson, told BBC Radio 4's Today programme, that death is the only way out for her husband. "We are asking for it to be legal for someone to end his life. The only way to relieve Tony's suffering is to kill him. There's nothing else that can be done for him," said the former nurse.

"He can't do anything. He's completely paralysed and he can't speak. If he has an itch I have to scratch it for him," she said.

She added that he did not want to die immediately but wanted to be able to choose.