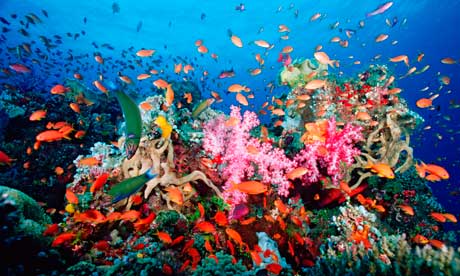 Three-quarters of the world's coral reefs are at risk from overfishing, pollution and climate change, according to a report.

By 2050 virtually all of the world's coral reefs – from the waters of the Indian Ocean to the Caribbean to Australia – will be in danger, the report warns. The consequences – especially for countries such as the Philippines or Haiti which depend on the reefs for food – will be severe.
"These are dire results," said Lauretta Burke, a lead author of Reefs at Risk, a collaborative effort led by the World Resources Institute in Washington and 25 other research organisations.

The reefs of south-east Asia are in the most acute peril – with 95% on the danger list; 75% of the reefs in the Caribbean are also threatened, including all those in Florida, Haiti and Jamaica. But even Australia, where reefs are protected, will be in the danger zone by the middle of the century if climate change is left unchecked.

Jane Lubchenco, who heads the National Oceanic and Atmospheric Administration, described the scenario as a "perfect storm" of global and local threats. "Make no mistake. This is a critical time for ocean eco-systems in general but especially for coral reefs," she said.