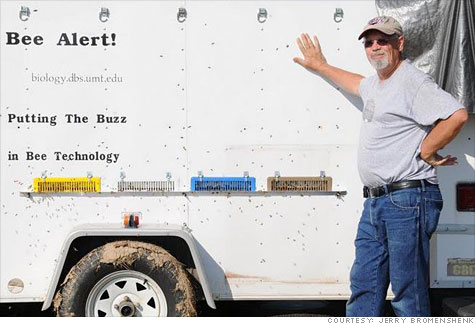 The long list of possible suspects has included pests, viruses, fungi, and also pesticides, particularly so-called neonicotinoids, a class of neurotoxins that kills insects by attacking their nervous systems. For years, their leading manufacturer, Bayer Crop Science, a subsidiary of the German pharmaceutical giant Bayer AG (BAYRY), has tangled with regulators and fended off lawsuits from angry beekeepers who allege that the pesticides have disoriented and ultimately killed their bees. The company has countered that, when used correctly, the pesticides pose little risk.
A cheer must have gone up at Bayer on Thursday when a front-page New York Times article, under the headline "Scientists and Soldiers Solve a Bee Mystery," described how a newly released study pinpoints a different cause for the die-off: "a fungus tag-teaming with a virus." The study, written in collaboration with Army scientists at the Edgewood Chemical Biological Center outside Baltimore, analyzed the proteins of afflicted bees using a new Army software system. The Bayer pesticides, however, go unmentioned.

What the Times article did not explore -- nor did the study disclose -- was the relationship between the study's lead author, Montana bee researcher Dr. Jerry Bromenshenk, and Bayer Crop Science. In recent years Bromenshenk has received a significant research grant from Bayer to study bee pollination. Indeed, before receiving the Bayer funding, Bromenshenk was lined up on the opposite side: He had signed on to serve as an expert witness for beekeepers who brought a class-action lawsuit against Bayer in 2003. He then dropped out and received the grant.