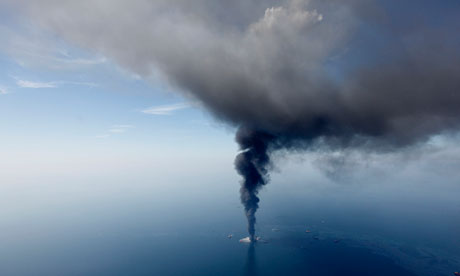 Vital warning systems on the Deepwater Horizon oil rig were switched off at the time of the explosion in order to spare workers being woken by false alarms, a federal investigation has heard.

The revelation that alarm systems on the rig at the centre of the disaster were disabled – and that key safety mechanisms had also consciously been switched off – came in testimony by a chief technician working for Transocean, the drilling company that owned the rig.
Mike Williams, who was in charge of maintaining the rig's electronic systems, was giving evidence to the federal panel in New Orleans that is investigating the cause of the disaster on 20 April, which killed 11 people.

Williams told the hearing today that no alarms went off on the day of the explosion because they had been "inhibited". Sensors monitoring conditions on the rig and in the Macondo oil well beneath it were still working, but the computer had been instructed not to trigger any alarms in case of adverse readings.

Both visual and sound alarms should have gone off in the case of sensors detecting fire or dangerous levels of combustible or toxic gases.

The evidence of deliberate dilution of the rig's safety mechanisms is likely to have wide ramifications for BP and Transocean, the world's largest offshore drilling company. It switches the spotlight of blame away from BP and towards the subcontractor which took the decisions. Of the 126 crew on board the rig on 20 April, seven worked for BP and 79 for Transocean.