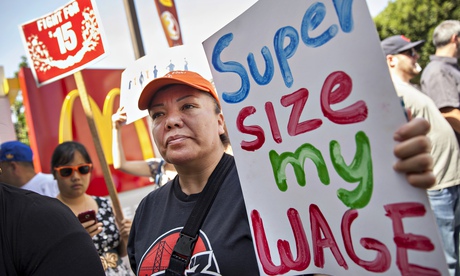 Richard Eiker has worked for McDonald's for 25 years. For the last 18 he has been at the same Kansas City restaurant working in maintenance, mopping floors, cleaning bathrooms, scrubbing grease out of the deep fat fryers. He has no illusions about who he works for: McDonald's. The burger chain begs to differ.

Over the last 30 years fast food jobs have come to take an ever larger part of the US labour market. In 2013 3.6 million people worked for fast food restaurants in the US. But most – 76% – worked for franchisees and not directly for the companies whose logos adorn the restaurants. Wages, hours, benefits – increasingly hot topics in this low-paying industry – have to be negotiated with the franchisee. That may be about to change.
Last week the National Labour Relations Board (NLRB), which investigates unfair employment practices, ruled that McDonald's could be held jointly liable for employment and wage violations by its franchise operators. The ruling followed a flood of complaints about retaliation against workers after a series of strikes and protests over wages and conditions at McDonald's and its competitors.

Eiker, who earns $11.05 (£6.56) an hour, joined the nationwide day of protest for fast food workers on 15 May by going on strike. He doesn't blame the franchisee, he blames McDonald's. "McDonald's says it's not a boss, but it certainly acts like one. Setting rules and controlling just about every aspect of its stores, so that the only thing that franchisees can skimp on is wages," he said after the ruling. He said the rules imposed by McDonald's made it impossible for the franchisee to increase wages.