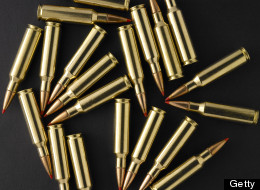 Still angry about the idea of an Islamic cultural center opening near Ground Zero, a group of Idaho gun enthusiasts decided to fight back with a new line of pork-laced bullets.

South Fork Industries, based in Dalton Gardens, Idaho, claims its ammunition, called Jihawg Ammo, is a "defensive deterrent to those who violently act in the name of Islam."
The bullets are coated in pork-infused paint, which the company states makes the ammo "haram," or unclean, and therefore will keep a Muslim who's shot with one of the bullets from entering paradise.

"With Jihawg Ammo, you don't just kill an Islamist terrorist, you also send him to hell. That should give would-be martyrs something to think about before they launch an attack. If it ever becomes necessary to defend yourself and those around you our ammo works on two levels," the company said in a press release earlier this month.
TVNL Comment:  How idiotic...