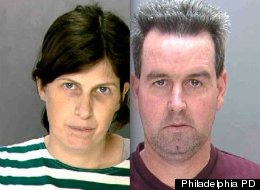 A couple serving probation for the 2009 death of their toddler after they turned to prayer instead of a doctor could face new charges now that another son has died.

Herbert and Catherine Schaible belong to a fundamentalist Christian church that believes in faith healing. They lost their 8-month-old son, Brandon, last week after he suffered from diarrhea and breathing problems for at least a week, and stopped eating. Four years ago, another son died from bacterial pneumonia.
Prosecutors said Tuesday that a decision on charges will be made after they get the results of an autopsy.

Catherine Schaible's attorney, Mythri Jayaraman, cautioned against a rush to judgment, and said the couple are good parents deeply distraught over the loss of another child.
"There are way more questions than answers at this point. We haven't seen the autopsy report. We don't know the cause of death of this child," Jayaraman told The Associated Press. "What we do know is Mr. and Mrs. Schaible are distraught, they are grieving, they are tremendously sad about the loss of their most recent baby."
TVNL Comment:  Child endangerment and chld neglect are criminal acts.  Does it really matter if they are the result of some insane religious doctrine?