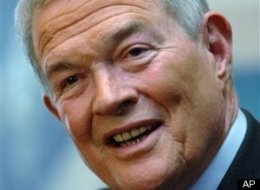 Outgoing Sen. Kit Bond (R-Mo.) is headed for a pay raise, announcing on Tuesday he'll be joining a high-profile law firm that lobbies on transportation issues. While in Congress, Bond served as ranking member on a subcommittee that doled out transportation funds. Now he is joining the St. Louis-based law firm Thompson Coburn as a partner.

"I joined this firm to be a lawyer, not to be a lobbyist," Bond told reporters at a press conference on Tuesday, pointing to ethics rules that ban former lawmakers from lobbying for two years after leaving the chamber. "I do not plan to be involved in lobbying Congress."
The firm primarily lobbies within the transportation sector, including contracts with Los Angeles County Metro Transportation Authority, and the Transbay Joint Powers Authority, a San Francisco-based transit project.

Bond will work on transportation, agriculture, biotechnology and international trade -- the same issues he focused on during his time as a lawmaker. Not only did Bond serve as ranking member on a subcommittee which allocates funds for transportation, during his time in the Senate Bond also funneled hundreds of millions of dollars back to his home state in earmarks.