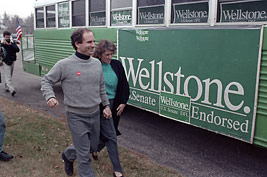 It started with a fingerprint of a 25-year-old college professor who opposed the Vietnam War and ended with a search for his remains, 32 years later, in a wooded area near Eveleth, Minn.

The FBI's files on Paul and Sheila Wellstone, many of which are being made public for the first time, shed new light on the extent of the relationship between the FBI and the political activist who would go on to become a U.S. senator from Minnesota.
Within the first two weeks of his term, Wellstone began receiving death threats for his views on the war. The FBI files provide a detailed description of the angry and sometimes violent calls the Democratic senator received. One man called Wellstone's office and threatened to "throttle" him. A caller from Faribault said, "If I had a gun, I'd come after you, you SOB." Another caller said that if his son dies during his military service in the Persian Gulf, "then Wellstone will die."