With all that is going on in our crazy world we need to take time out to smile once in a while. Come here each day and get your smile started!

Send us your photos or links and if they make us smile we will post them. Send us a caption as well! Send to: submissions@tvnewslies.org
---
---
---
Turn your speakers on and press play. Caution, adult humor!
---
---
---
---
---
---
---
A weekly funny!
---
Too funny to delete!: Another funny from Mary K! This is a real tag piece of an item that was made in the US, as found at a store in France. The label has the washing instructions in English. Then below that, it has the same instructions in French, with the added 3 lines:
NOTE: From Catherine (Forum member): It turns out that this garment is made by BIHN CLOTHING, located in Washington and California. In spite of threatened boycotts by neoconservatives, they've been doing so well since news of this came out that they've put the label on a t-shirt. - Proceeds from the sales go to a national homeless veterans' charity.
WE ARE DESOLATE THAT
OUR PRESIDENT IS AN IDIOT.
WE DIDN'T VOTE FOR HIM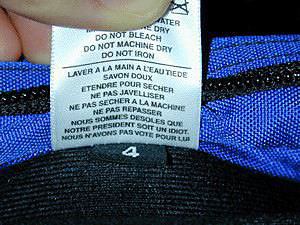 To cool to delete!: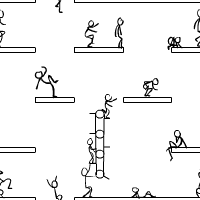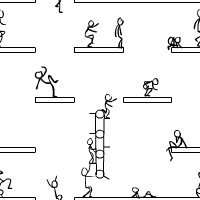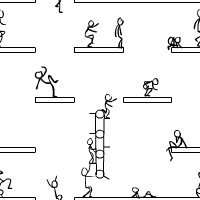 ---
---
June 22: I had to leave this up! 4s are wild! She weighs 4 ounces, she has 4 toes on each of her hand/feet, and today is her 4th birthday! She's my little girl, Doolie! Yey! - Jesse, editor, TvNewsLies.org.
---
Past smiles: (Special thanks to Eva for all her contributions!)
Which came first, chicken or the egg...or the mouse?

Click here!

You've gotta know when to hold em, know when to show then know when to walk away, and in this case...know when to run!

Click here!

Am I wrong, or is there trouble on the horizon here?

Click here!

Must have been at the office holiday party!

Click here!

Maybe this is why my parrot is so crazy...too much coffee!

Click here!

The only thing missing is the remote control!

Click here!

If my Mom had a parrot, this would be the daily scene!

Click here!

I just picture him saying "I am Count Dracula!"

Click here!

It would be a better world if they were in charge!

Click here!

All those Aflak commercials drove him to drink!

Click here!

They heard about catnaps, so they thought they would try it out!

Click here!

Can you tell that they just had an argument?

Click here!

My family has tried very hard to teach my dad to use a computer!

Click here!

I know it doesn't fit, but I want it! Please! Can I have it?

Click here!

If my nose is not returned, there is going to be serious trouble!

Click here!

Does not believe in that saying about the hair of the dog!

Click here!

The three on the bottom are slipper models.

Click here!

You heard of puss-in-boots? Now meet puss-in-pocket.

Click here!

The game is called "duck duck goose" not " dog dog duck!"

Click here!

A scene from the feline version of the Matrix.

Click here!

Go ahead, try to tease me with that string now!

Click here!

Desperately trying to attract attention from Anna Kournikova.

Click here!

Honey, does your coffee taste bunny, I mean funny, I mean bunny?

Click here!

Probably reading "Escaping From Mousetraps For Dummies!"

Click here!

Do you ever find hair in your food? Here is one reason why:

Click here!

Even Pumpkinbelly the cat is shocked at the state of the media!

Click here!

You never seen them like this until after the wedding!

Click here

!

Behind the scenes as the TvNewsLIES daily news letter gets prepared. Our editor waits patiently for the latest news.

Click here!

I think we know who is in charge of this relationship!

Click here!

Maybe some decaff would be a better option!

Click here!

These guys have been terrorizing my parrot!

Click here!

The winter Olympics are 2 years from now but it never hurts to practice!

Click here!

Some of us shampoo and condition our hair, some of us water and fertilize our hair!

Click here!

Finally a rodeo that is not cruel to the animals!

Click here!

The term is "cat burglar" not "cat burger!"

Click here!

What, you never saw a freshly washed conure?

Click here!

Talk about a bad hair day! He can use a vacuuming, a washing, a cut, a rinse, and I am not sure even all that would help!

Click here!

You think it's easy being a duck? Training starts early in life!

Click here!

How are we going to get all these spots off of us?

Click here!

If they can get along we can all get along!

Click here!

Does your pet measure up? Here is you find out.

Click here!

The stress even gets to the editor of this site!

Click here!

This just might be worse than those silly white poodle hairdos!

Click here!

Want's to be a fireman when he grows up. He is practicing sliding down the firehouse pole!

Click here!

The hair dye cost was just too much so he let it all grow out!

Click here!

They preferred this to a spin in the dryer.

Click here!

We brought "democracy" to Borneo. Now look! they have "freedom!"

Click here!

Not quite the most intelligent looking creature!

Click here!

"PLEASE don't take me to the dog run like this!"

Click here!

Here is a scene from the new American Idol series that is being produced for the Animal Planet network.

Click here!

Fabio

's lesser know out of shape brother, perhaps? Same hairdresser!

Click here!

Itchy feet? Maybe you are suffering from athlete's cat? What causes that you ask?.

Click here!

Evolution is in full gear! Animals are truly evolving!

Click here!

Having a bad hair day and needs some coffee!

Click here!

It's not quite a hammock, but it will have to do!

Click here!

Bigsly was surrounded by April fools! Make that year round fools!

Click here!

Wally thought that he could make it rich by having his family appear in toothpaste commercials! Here you see one of their promo shots. We wish him luck!

Click here!

The Australian Olympic bobsled team is at a great competitive disadvantage!

Click here!

(Wait for it, it takes a while to load)

Controversy is already brewing regarding the Olympics. The Chinese entry for the clean and jerk is suspected of taking steroids. The Chinese are denying this claim!

Click here!

Let's get this straight once and for all! We don't wear graduation caps, we don't use monocles and we don't eat potato chips! Got it?

Click here!

After finding out that he was a bird he was determined to take flight!

Click here!

Charlie finally found a way to battle those high gas prices! I am not sure if everyone was happy with the solution however. Click here!
Few people know about the inventions of Henry Ford's great grandfather who helped tame the wild west. Click here!
I think a set of boots may be more appropriate! Click here!
No caption needed. Just pleanty of smiles on this page! Click here!
The proud fearsome German Shepherd sure misses the glory days of his breed, before the advent of pet stores! Click here!
The CIA should recruit this innovative genius! Click here!
I suppose this brings into question the notion that every bride looks beautiful on her wedding day. Click here!
Boris was very outspoken about his pesonal likes and dislikes. Click here!
When Phil held up his middle finger to Charlie during an argument he had no idea that Charlie has such a bad temper! Click here!
With the economy the way it is we could not afford to protect our valuables with a guard dog, so we had to settle for a different less costly deterrent! Click here!
The person who created this photo compilation is the target of a class action lawsuit. The caste states that the image is an unprovoked attack on chimps all over the world. The chips claim that it is insulting, derogatory and cruel to be depicted in such an offensive manner. They are seeking compensation for emotional trauma. Click here!
Barney tried to intimidate us by flexing his muscles, but I think his overall height and weight disadvantage is too much to overcome! Click here!
After several weeks of flirting via e-mail, James finally met his cyber date. Needles to say he will be suing http://WeMetOnTheWeb.com shortly. Click here!
Sometimes it is just nice to mellow out with a loved one! Click here!
Taking a hint from Flopsy and Mopsy (see past smiles), Henry Hare decided that hopping was too old fashion. Here he is taking his family out in style! Click here!
Wally just laid there dreaming of the day he would have enough money for that great hammock! Click here!
Flopsy and Mopsy eventually realized that hopping was not the most efficient form of transportation. Click here!
After placing his toupee on him his mother carefully reattached his head to his little body. Click here!
We hope your weekend is as pleasant and peaceful as this image is! Click here!
After returning from New Orleans Myra was shocked to find out that she will be featured in the next Girls Gone Wild video, lifting up her shirt for some free beads! Click here!
After weeks of complaining about my mother's sauce my dad finally found out what the problem was! Click here!
Who made this comfortable thing, a big spider? Click here!
Forget the Cat in the Hat, here is the Cat IS the Hat! Click here!
Even though Wally was not able to graduate with honors from herding school he was very proud of his performance during his final practical exam. Click here!
Little Whiskers did not hold it against the men of the house if they left the seat up. It didn't make much of a difference to her anyway! Click here!
Here we see little Rusty resting after taking 2nd place in an exhausting knitting endurance contest. Click here!
Another exciting day in the hectic lives of Claud and Martha. Click here!
Fluffy was confused when saw who the warden selected as his new cell mate Click here!
Cloning is still an imperfect science! Click here!
This might be the bravest cat in the world! Click here!
I tell you, if I had my contact lenses with me she would have given me her number! Click here!
No worries! Sweet dreams. Click here!
Once again...it's a "bird" in the hand that is worth 2 in the bush! Click here!
Like the tutrle said...the saying is about a "bird" in the hand being worth 2 in the bush! Click here!
It frustrated Mumphry to realize that he had no way of telling his capture that the saying was about a "bird" in the hand being worth 2 in the bush! Click here!
24....37...22....HIKE! Click here!
As he prepared for his upcoming thumb wrestling competition Kermit Jr. couldn't help but think to himself that he may have overestimated his chances of winning! Click here!
It's amazing how popular Budweiser beer is! Click here!
We would all sleep better if we had our own guardian sheep looking over us! Click here!
Being the Yoda of the amphibians brings a devilish grin to the Lord of the Lilly Pad! Click Here!
Um, well, this is a, wait maybe it's not, but it looks like, oh, you decide! Click Here!
This is not what we thought they meant when they said it was an animal hospital! Click Here!
Life is so easy for some! Click here!
When not posing for a photo this cat is actually quite intelligent looking! Click here!
An answer to an old question. Does a bear, you know what,. in the woods? Click here!
It's kind of a catch 22. The fall may kill him but the alternative does not look to promising! Click here!
He is quite angry that there is no salsa at the table She on the other hand is trying to ignore him as she finishes her entree. Click here!
Me and my mommy! Click here!
Next time don't ask the barber for the "Art Garfunkle" cut! Click here!
It's a good thing they didn't use a trackball! Click here!
Happiness is: Click here!
So close, yet so far! Click here!
Eeek! I don't know if this is a funny or scary! Click here!
Nice pants! Click here!
Um, waiter...we ordered 3 bowls of food, not one! Cick Here!
---
This is my little friend Doolie. She is 3 years old now. She rings like a cell phone, beeps like a microwave oven, makes kissing sounds, hates computer keyboards and will attack any hands that touch them and she is a proficient paper shredder. She knows that she is not permitted on the couch so she waits patiently until I am not looking before she takes here daily trip there. She makes me smile every day.
Jesse - Editor, TvNewsLies.org PICTURE WILL BE REPLACED ASAP
Parrot's oratory stuns scientists

- The finding of a parrot with an almost unparalleled power to communicate with people has brought scientists up short. - The bird, a captive African grey called N'kisi, has a vocabulary of 950 words, and shows signs of a sense of humour.