FOXymoron
FOX News Reported; TvNewsLies.org Decided!

ox•y•mo•ron -
Pronunciation: (ok"si-môr'on, -mOr'-), [key]
—n.,
—pl. -mo•raPronunciation: (-môr'u, -mOr'u). [key] Rhet.
a figure of speech by which a locution produces an incongruous, seemingly self-contradictory effect, as in "cruel kindness" or "to make haste slowly" or "journalism, fair and balanced" or "FOX news."

Contradiction: Journalism/Fair and Balanced
Journalism: 'j&r-n&l-"i-z&m - : writing characterized by a direct presentation of facts or description of events without an attempt at interpretation and without opinion.
"Facts" or "descriptions of events" can not be fair, unfair, balanced or unbalanced. Opinion or bias can however be fair or balanced. Therefore by admitting to being "Fair and Balanced" the FOX network contradicts the concept of journalism. It is what TvNewsLies.org calls a FOXymoron.

Childish attempt to appear credible: We Report. You Decide.
What is there to decide? Are they asking us to decide if we believe them? Are they challenging us to pick out the truthful elements hidden in their broadcasts? This sounds like something that would come from a little child who is trying to get you to believe what he/she said as opposed to what the baby sitter said. "I'm not going to tell you if I am lying; you decide!"
It is pretty clear that at least one of the following statements about FOX News network must be accurate (we think they both are):
There is nobody at the entire FOX network who is educated enough in the field of journalism to realize that the main motto of the network contradicts itself and that the second one makes FOX appear to be pretty untrustworthy.

They know and they just don't care, because journalism is not on their agenda.
Think about it!
Jesse - Editor - TvNewsLies.org - 10-August-2003
---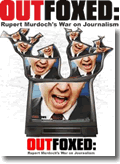 Outfoxed examines how media empires, led by Rupert Murdoch's Fox News, have been running a "race to the bottom" in television news. This film provides an in-depth look at Fox News and the dangers of ever-enlarging corporations taking control of the public's right to know.
---
Get your Loaded Deck here!