Download Bush Failed Us Flyer - Click Here!
---
POST 9/11 LEADERSHIP/WAR PRESIDENT?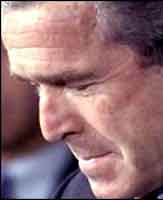 GEORGE BUSH FAILED US ON 9/11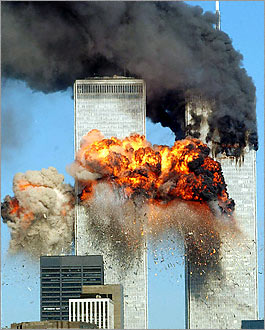 And now he wants us to rehire him!

HE WANTS YOU TO BELIEVE THAT HE WAS STRONG AND DECISIVE IN RESPONSE TO THE 9/11 ATTACKS.
Wasn't he supposed to prevent an attack like this?
HE WANTS YOU TO FORGET THAT:
HE WAS IN CHARGE OF PROTECTING US ON 9/11, 2001 AND HE FAILED!
UNDER HIS WATCH, WE EXPERIENCED THE WORST FAILURE OF NATIONAL SECURITY IN THE HISTORY OF THE NATION!
WHY WOULD ANYONE REHIRE A MAN WHO FAILED HIS ON-THE-JOB TRAINING SO BADLY AND IS HINDERING AN INVESTIGATION?
If the corporate media were to report the news that mattered, rather than distract, distort, and delude the public, everyone would understand how TERRIBLY the Bush administration has failed this nation.
The media tells us that Bush has led this nation well after 9/11 but they never remind us that he failed us on that day!
---
The World According to Bush DVD
A Scathing Documentary