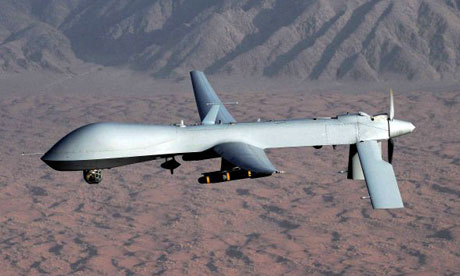 A United Nations investigation into targeted killings will examine drone strikes in Afghanistan, Pakistan, Yemen and Somalia, according to the British lawyer heading the inquiry.

Ben Emmerson QC, a UN special rapporteur, will reveal the full scope of his review which will include checks on military use of unmanned aerial vehicles (UAVs) in UK operations in Afghanistan, US strikes in Pakistan, as well as in the Sahel region of Africa where the conflict in Mali has erupted. It will also take evidence on Israeli drone attacks in Palestinian territories.
About 20 or 30 strikes – selected as representative of different types of attacks – will be studied to assess the extent of any civilian casualties, the identity of militants targeted and the legality of strikes in countries where the UN has not formally recognised there is a conflict.

The inquiry will report to the UN general assembly in New York this autumn. Depending on its findings, it may recommend further action. Emmerson has previously suggested some drone attacks – particularly those known as "double tap" strikes where rescuers going to the aid of a first blast have become victims of a follow-up strike – could possibly constitute a "war crime".