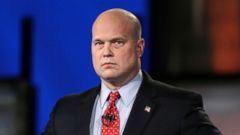 Matthew Whitaker, tapped by President Donald Trump as acting U.S. Attorney General, once made a key reception in a Rose Bowl football game, ran as a conservative Republican for the U.S. Senate in Iowa, and wrote an opinion piece arguing that special counsel Robert Mueller was "going too far" in his investigation of Russian meddling in the 2016 presidential election.
Whitaker, 49, was named the acting head of the U.S. Department of Justice (DOJ) after Jeff Sessions resigned Wednesday after being asked to do so by Trump, according to a letter Sessions sent to the president.
Trump has long been angered by Sessions' decision to recuse himself in March 2017 from the Russia investigation headed by Mueller.
Whitaker had been Sessions' chief of staff.