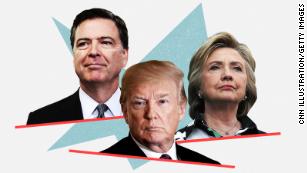 The massive report from Department of Justice Inspector General Michael Horowitz makes clear that while several FBI officials broke with bureau protocol in their handling of the investigation into Hillary Clinton's private email server during the 2016 campaign, they were not motivated by political bias against Donald Trump.
That, at first glance, is the
big takeaway
from the long-awaited report which President Trump -- and some congressional Republicans -- had insisted would back up their claims of a "deep state" conspiracy against him led by fired FBI Director James Comey and his deputy Andrew McCabe. The report says that Comey acted inappropriately in his decision to speak out about Clinton email investigation despite not bringing charges -- among other things -- but that he did not do so with the express goal of influencing the 2016 election one way or another.
Except that the report also includes an August 2016 text message exchange between FBI lawyer Lisa Page and FBI agent Peter Strzok, who was intimately involved in not only the Clinton email investigation but also the FBI inquiry into Russia interference in the 2016 election and possible collusion between the Russians and the Trump campaign.