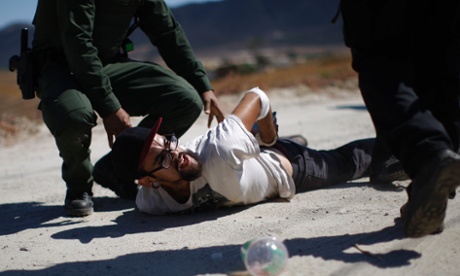 Six people were arrested on 4th July after demonstrators from dueling sides of the immigration debate clashed outside a US Border Patrol station in Murrieta, California, where a convoy of busses carrying some of the Central American migrants flooding the US-Mexico border was expected to arrive.

This was the second demonstration this week, after protestors blocked buses carrying migrant children and adults, forcing them to be rerouted.

Murrieta police lieutenant Jon Flavin told the Guardian that police arrested six people on Friday. Early Friday morning a protestor was arrested for disobeying a police officer, according to police.
Around 200 people gathered at the station, waving signs and sometimes shouting at each other. The AP reported that one banner read: "Proud LEGAL American. It doesn't work any other way." Another countered: "Against illegal immigration? Great! Go back to Europe!"
The transfers are in reaction to an exodus of children fleeing Central American countries for the US, which has overwhelmed southern Texas' border facilities – a situation the Obama administration has
labelled a "humanitarian crisis".