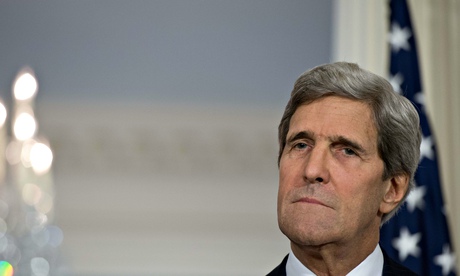 The US hit back at Binyamin Netanyahu on Sunday after the Israeli prime minister warned that calls for boycotts of Israel to pressure it over settlements in the occupied Palestinian territories are "immoral and unjustified" and would not achieve their goal.

In a public spat that reflected tensions over slow-moving Israeli-Palestinian peace talks, the state department rebuked Netanyahu for apparently misrepresenting the words of the US secretary of state, John Kerry. Another senior rightwing minister accused Kerry of serving as a "mouthpiece" for antisemitic views.
Speaking on the record at the start of the weekly cabinet meeting, the Israeli prime minister said that the growing
international boycott movement would only "push peace further away" by encouraging Palestinian intransigence.

"No pressure will force me to give up the vital interests of the state of Israel, above all the security of the citizens of Israel," Netanyahu stated.

The remarks followed Kerry's warning on Saturday that failure to reach a peace agreement with the Palestinians would damage Israel's capacity to be a democratic state and could lead to more boycotts.

"The risks are very high for Israel," he said at an international security conference in Munich. "People are talking about boycott. That will intensify in the case of failure. We all have a strong interest in this conflict resolution. Today's status quo absolutely, to a certainty, I promise you 100%, cannot be maintained. It's not sustainable. It's illusionary. There's a momentary prosperity, there's a momentary peace."