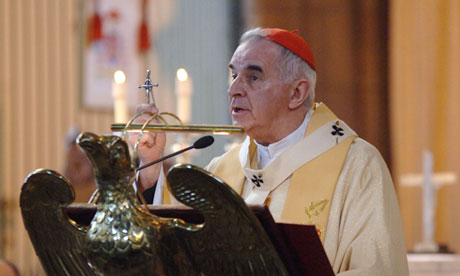 Pope Benedict XVI is considering how to respond after being told about allegations that the UK's most senior Catholic has been accused of "inappropriate acts" against fellow priests.

The Vatican confirmed the pope had seen allegations made by priests against Cardinal Keith O'Brien, the head of the Scottish Catholic church, by three serving priests and a former priest in his diocese which date back to 1980.
The claims – which are denied by the cardinal and remain unproven – add to a series of controversies over senior figures in the church and within the Vatican that will overshadow Benedict's final days as pontiff and the first weeks of his successor.
As the pope gave his last pontifical blessing to crowds in St Peter's Square on Sunday morning before stepping down this Thursday, his spokesman, Father Federico Lombardi, said: "The pope is informed about the problem and the issue is now in his hands." O'Brien, who is also due to retire on his 75th birthday next month, is the only Catholic in the UK within the elite group of 117 cardinals eligible to vote on the pope's successor. It is not known whether he will attend the vote.
TVNL Comment: The plot thickens by the moment, doesn't it? Just asking...