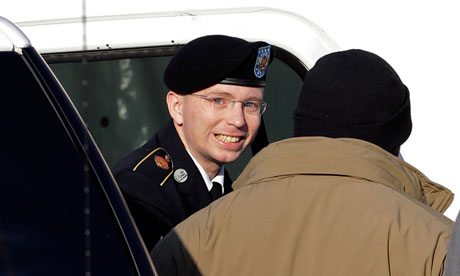 Bradly Manning, the US soldier accused of being behind the largest leak of state secrets in America's history, has been denied the chance to make a whistleblower defence in his upcoming court martial in which he faces possible life in military custody with no chance of parole.

The judge presiding over Manning's prosecution by the US government for allegedly transmitting confidential material to WikiLeaks ruled in a pre-trial hearing that Manning will largely be barred from presenting evidence about his motives in leaking the documents and videos. In an earlier hearing, Manning's lead defence lawyer, David Coombs, had argued that his motive was key to proving that he had no intention to harm US interests or to pass information to the enemy.
The judge, Colonel Denise Lind, ruled that general issues of motive were not relevant to the trial stage of the court martial, and must be held back until Manning either entered a plea or was found guilty, at which point it could be used in mitigation to lessen the sentence. The ruling is a blow to the defence as it will make it harder for the soldier's legal team to argue he was acting as a whistleblower and not as someone who knowingly damaged US interests at a time of war.

"This is another effort to attack the whistleblower defence," said Nathan Fuller, a spokesman for the Bradley Manning support network, after the hearing.