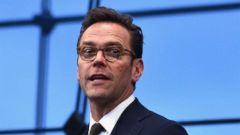 The CEO of 21st Century Fox denounced racism and terrorists while expressing concern over President Donald Trump's reaction to the deadly violence surrounding a white nationalist rally in Charlottesville, Virginia.

James Murdoch also told friends in a personal email that he and his wife, Kathryn, will donate $1 million to the Anti-Defamation League.
Murdoch writes that the events in Charlottesville last weekend and Trump's response "concern all of us as Americans and free people."

"I can't even believe I have to write this: standing up to Nazis is essential; there are no good Nazis. Or Klansmen, or terrorists," Murdoch added. "Democrats, Republicans, and others must all agree on this, and it compromises nothing for them to do so."