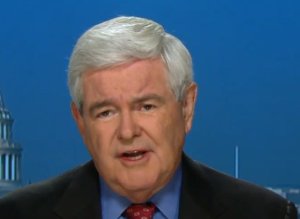 Less than a month into his tenure as a new CNN host, Newt Gingrich has already violated the ethical guidelines set for him by the network.

CNN executive Rick Davis previously told Media Matters that if Gingrich, who serves as honorary co-chair for the American Legacy PAC, "is helping fund a candidate and that candidate's on the show, or being discussed on the show, of course he'll disclose that. Disclosure is important when it's relevant." However, Gingrich has violated those standards since his first day of hosting.
As Mother Jones' David Corn and Andy Kroll reported today, Gingrich's PAC recently donated to the campaigns of Sen. Rand Paul (R-KY) and Sen. Ted Cruz (R-TX).

After the donations were made, Gingrich hosted Paul on the first episode of Crossfire's revival -- and discussed Cruz on yesterday's episode -- without disclosing his PAC's donations in either instance.

The rebooted Crossfire debuted September 9 with a discussion about Syria featuring Paul and Sen. Bob Menendez. During the program, Gingrich sided with Paul against military strikes on Syria. A few weeks earlier, on August 20, American Legacy PAC founder and president Mike Murray sent an email to supporters announcing they're "proud to endorse Sen. Rand Paul and provide him with a check for $5,000 to aid in his re-election in 2016!"