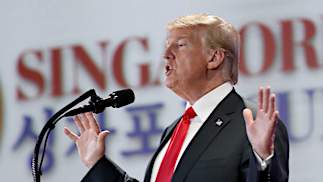 Pre
sident Trump
is brushing aside concerns about North Korean leader Kim Jong Un's human-rights abuses as he seeks to broker a nuclear deal with the young autocrat.
Pressed by Fox New's Brett Baier in an interview about Kim's oppression of his own people, Trump said: "Yeah, but so have a lot of other people have done some really bad things."
Asked about his decision to negotiate with a known "killer," Trump praised the North Korean leader for being a "tough guy" who managed to take control of his country at a young age.
"I don't care who you are, what you are, what kind of advantage you have," Trump said of Kim, whose family has controlled North Korea since its creation. "If you can do that at 27 years old, you, I mean, that's one in 10,000 that can do that."
Trump went on to call Kim a "very smart guy" and a "great negotiator" in the interview, which was aired Wednesday.