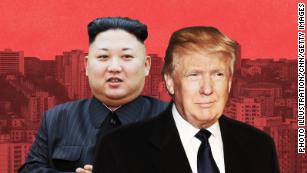 North Korea says the US should carefully consider the fate of the North Korea-US summit, in view of what it calls "provocative military disturbances with South Korea," North Korea's state news agency reported early Wednesday local time.
The warning comes as KCNA reported North Korea has suspended talks with South Korea because of a joint military drill conducted by South Korea and the US.
"We are aware of the South Korean media report. The United States will look at what North Korea has said independently, and continue to coordinate closely with our allies," White House press secretary Sarah Sanders said in a statement.
However, the White House was caught off guard by the reports, according to aides. One official affirmed an assertion from the State Department that it has received no information from Pyongyang about the status of the talks.