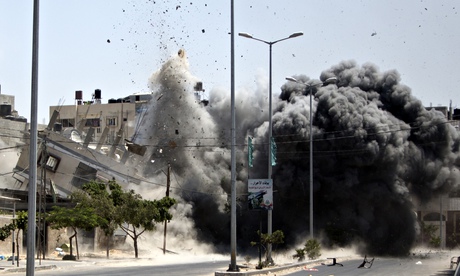 The Israeli military has been forced to retract a statement claiming that the mortar shell that killed a four-year-old Israeli boy on Friday was fired from or near a United Nations school in Gaza.

After the death of Daniel Tragerman outside his home in a kibbutz near the Israel-Gaza border, a spokesman for the Israel Defence Forces (IDF) said the mortar was fired from or near a school run by UNRWA, the UN agency for Palestinian refugees, which was being used to shelter Palestinians who have fled their homes because of bombing and destruction.
A correction later tweeted by an IDF spokesperson, Peter Lerner, read: "After further review, the school the mortar was launched near from is not being used as a shelter by UNRWA but rather a shelter maintained by Hamas authorities in Gaza."

UNRWA has become embroiled in the Israel-Hamas conflict after at least six of its schools being used as shelters were hit by Israeli air strikes or shelling, and Hamas arms caches were found at three disused schools.